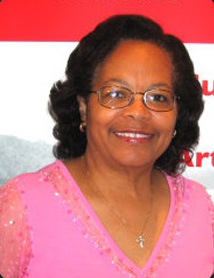 "I'm a 60-year-old mother who recently retired from the Federal Government after 30 years of repetitive typing on manual to electric typewriters and then to the computers. The
repetitive motion caused pain up and down my left arm, wrist and fingers. I've been to a neurologist for possible nerve damage to my left arm and/or elbow. I've had acupuncture, neck and back adjustments, physical and occupational therapy; however, I was still experiencing this very dull electrifying pain.
During the Christmas holidays, my son told me about this doctor that deals with laser treatment for carpal tunnel syndrome and the next time I come to visit him and his family in BC, he will take me to visit this doctor. Well, I visited my son and family in February through March while he was away in Africa but didn't go to the doctor. When my son returned from Africa he was very disappointed that I had not seen the doctor whom he felt could be of great assistance to me. For years my son has seen me in pain and he believed the laser health treatment for pain and soft tissue would be of great benefit.
On June 22, I returned to BC for another visit with my son and family and this time, I accepted the advice and made the appointment to visit the doctor who utilizes the laser treatment. During the evaluation, I mentioned the pain I was experiencing in my left knee. Yes, I still have the pain in my left arm but the knee pain is worst. I had completed several physical therapy sessions for my osteoporosis arthritic knee but no relief from the pain.
Appointments were scheduled for the left knee, then the left wrist for the carpal tunnel as well. I have you to know that after the third laser treatment for my left arm and wrist, there was no more pain. I can hold objects in my hand without the fear of dropping them. Since the LaserHealth® Solutions treatment, I haven't experience any electrifying pain flowing through my wrist and fingers. I keep looking at my arm, wrist and fingers in amazement "no pain". The pain level has ceased from 10+ to 2; or better yet, 95% pain level down to 80% pain level. I'm planning my next trip to visit my son, so I can schedule more at treatment the LaserHealth® Solutions. This laser health treatment is amazing!
I thank God for my son who introduced me to Dr. Rob and LaserHealth® Solutions, the pain and soft tissue rehabilitation. I pray God's continual blessing on Dr. Rob and the members of his practice.
Sharon R. W.