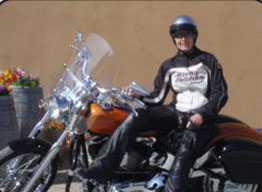 "My husband and I were planning to ride our motorbikes, with a group of friends, from Calgary to the wine region in Osoyoos, B.C. The morning before the day we were to
leave, I awoke with a twinge in my back that worsened over the course of the day, to the point that I could not even take a step without gasping. That evening, we had a meeting with a coordinator who facilitated a planning process for our son. She saw my dilemma and shared that she had a similar problem addressed successfully by a clinic called LaserHealth® Solutions. In desperation, I called but they were fully booked...however, Suzanne, the lady that look my call was most sympathetic and offered to take me into their home that evening for a treatment! I could not believe her sincere concern, especially for a complete stranger.
They set up a portable massage table in their living room that evening. Over the course of the next two hours, Blaine Skleryk manipulated my back, by using my own muscle power with no pain involved and then ended the session with a laser treatment. Although I limped into their house, I left walking gingerly, but normally. The pain was completely gone!
My husband was convinced that I should take my car on the trip rather than my motorbike. LaserHealth® Solutions squeezed me in for another treatment the next morning before we were to leave on the trip. As well, Blaine gave me a series of stretches I was to do 4 or 5 times per day and anticipated I would be OK to go on my bike! The reality is that my husband helped me lift my leg over the bike for the first day and a half and then after that I was just great on my own. My back felt better with each day that we rode and I have been pain free, walking normally, ever since.
When I shared my experience with friends, I learned two others experienced similar successful experiences at LaserHealth® Solutions. Both ladies had serious ski-related knee injuries corrected by surgery, both experienced better than average recovery with post-op physiotherapy and laser treatments taken at your clinic. Both swear by the treatments they received.
I know this sounds like a commercial but I cannot believe what LaserHealth® Solutions did for me in such a short time. I am interested in sharing my experience so others may benefit from their expertise and professionalism."
Shirley