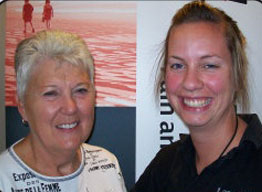 "I was experiencing pain and swelling in my left knee.Sitting for any extended period of time resulted in stiffness and I would be in pain when I stood or started walking.
After 10 laser treatments there was noticeable improvement and upon completion of 16 treatments the results were remarkable and I would rate my knee at a 95%.
I found the laser treatments an excellent alternative to medications/surgery and would highly recommend a consultation with the knowledgeable staff before pursuing any further forms of therapy or medication.
Bea